End of an era in Dallas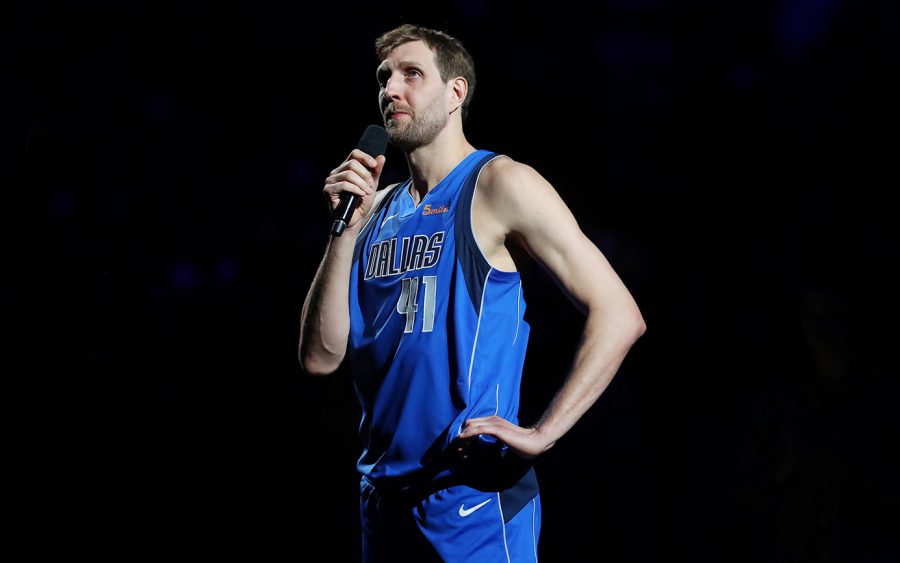 Mike LaBella, Sports Writer
April 15, 2019
Dallas Mavericks power forward Dirk Nowitzki has called it a career after 20 seasons.
In the final home game of the season, Nowitzki had his best game of the season putting up 30 points and eight rebounds. He also made a speech to the Maverick crowd at the end of the game, thanking and confirming to the fans that this will be his final season. Even after his tear-jerking speech, Nowitzki still had one more game to suit
up for against the San Antonio Spurs, where he put up 20 points and 10 rebounds.
The Spurs showed their respect for Nowitzki, and the NBA will forever appreciate the greatest European player in the history of the league for all he has done. From going on an improbable run and winning the championship in 2011, to winning the MVP award in 2007, to becoming the franchise leader in points, rebounds, games played, blocks, three pointers and free throws made for the Mavericks. The NBA and its fans appreciate what he has accomplished and how he changed the game.
As Dallas says goodbye to Nowitzki, they welcome another promising European big man in Kristaps Porzingis. Porzingis was acquired from the New York Knicks right before the trade deadline this year. But Porzingis is dealing with a torn ACL so he has
yet to play for the Mavericks. But during his tenure with the Knicks, he proved that he has the potential to be a top player in the league averaging about 18 points, seven rebounds, and two blocks per game in his three-year career.