The "Empire" Liar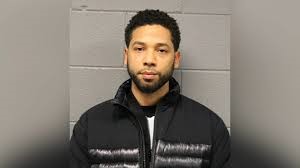 Hang on for a minute...we're trying to find some more stories you might like.
"Empire" star Jussie Smollett was arrested on a felony charge of disorderly conduct for allegedly filing a false police report claiming two men attacked him in late January.
Edward Wodnick, commander of the area central detective division, detailed the Chicago police department's extensive investigation into Smollett's hate crime allegations. On January 29 Smollett reported to be the victim of a hate crime according to Wodnick. Smollett alleges that two men yelled racial, homophobic and political statements at him, beat him, put a noose on his neck, threw bleach on him and fled, according to Wodnick.
Smollett said one of the attackers said, "'This MAGA country, n****r' and he punched me in the face so I punched his a** back." In an interview with Robin Roberts.
The men's attorney told police that "something smelled fishy" and that "she did not think that they were the offenders as were reported," Wodnick said. She allowed police to give them a video interview and said "she worked with us very, very closely to get to the point where she came to me and said, 'They are not offenders. They are victims,'" Wodnick said.
After a grand jury investigation, the state attorney's office approved a felony charge against Smollett for disorderly conduct for allegedly filing a false police report.
In a press conference, superintendent of the Chicago police department Eddie Johnson addressed the situation.
""Empire" actor Jussie Smollett took advantage of the pain and anger of racism to promote his career," Johnson said.
"Smollett paid $3,500 to stage this attack and drag Chicago's reputation through the mud in the process," Johnson angrily said.
Johnson revealed that Smollett orchestrated this publicity stunt because he was dissatisfied with his salary. The companies that produce "Empire," Fox Entertainment and 20th Century Fox Television, released a new statement on the Smollett case:
"We understand the seriousness of this matter and we respect the legal process. We are evaluating the situation and we are considering our options."
Smollett's bail is set at $100,000.
About the Writer
Brendan Sullivan, Entertainment Writer
I'm an aspiring journalist with hopes to provide a platform for those without a voice. With my writing I aim to emphasize on cultural empowerment and to...