Coping with End of Semester Burnout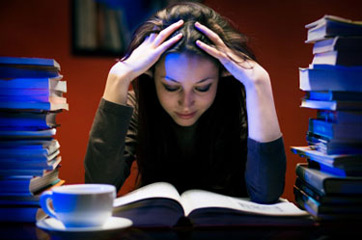 Ocean County Colleges' last day of the semester is on May 15 and the commencement ceremony is a week later on Thursday, May 25 at 6 p.m.  
Students have been spending this past semester working on projects, meeting deadlines, and now that the semester is getting ready to end, students are preparing for final exams.  
Now that Final exams and projects have deadlines that students need to meet, students are often caught staying up late to study and work on these projects.  
After several nights of staying up late to study and finish assignments, students can be seen as tired in their classes, becoming stressed out because their mental health is affected, and even becoming frustrated with the other things that are going on. Students can often come off as groggy to professors or seem unmotivated due to how they are feeling.  
Some students have stated how they are currently feeling about the end of the current semester.  
Bridget Morris, a first-year student at the college, has found that she is ready for summer. She feels that the deadlines can be a bit much, "Not terribly tired and/or stressed at the end of other school years, but this week I definitely feel ready for summer break (or just a week of no school or deadlines) after the semesters," Morris said.  
Brian Levine, a second-year student at the college has said that he has not felt much stress this past semester, though he is happy that it is coming to an end, "I am happy that it's over," Levine said. Levine has been doing his best to keep up with both his job and his schoolwork. Levine has had a few short deadlines he has had to meet over the course of the semester and multiple essays that he has coming up within the next few weeks.  
Shawn Kret another second-year student had it slightly tougher, "I stayed up late to study for exams," Kret said, "Human Anatomy has stressed me out." Kret has been busy doing schoolwork this semester while trying to keep up with his labs for his class.  
Christina Ennis, another second-year student at the college has said almost every semester has been tough for her. Ennis has stated she mostly feels it at the very end of the semester, "I feel that the last month of every semester is more stressful because professors try to cram in all of the information and topics from the syllabus into one month. Also, finals week is more stressful to me than midterms because for one, I want my GPA to be high and two, with five classes each semester, the workload becomes overwhelming," Ennis Said.  
It all depends on how many classes each student is carrying every semester. Some students can have anywhere up to five classes and depending on if a student has a lab course that can make them feel tired and stressed even more.  
Some experts feel that the colleges could make some changes to how they operate when it comes to final exams and deadlines for their students. Some feel that professors should back down on the amount of work that they give their students and others feel that colleges should do away with final exams all together.  
Darra Stack, a counselor in the counseling center at the college sees many students almost every day. Stack and the rest of the counseling center say that at the end of the semester they often see more students in April and May, and it exceeds the number of students that they see in the winter months, ". We keep track of students and for the Spring semester it has increased in numbers throughout the semester, serving the most students in March and most likely will exceed March's numbers in April," said Stack. Stack believes that colleges could help students get through to the end of the semester, Stack believes that students need to find time to do self-care and create better time management to maintain their happier sides.  
Matthew Genz, former alumni of Ocean County College has also had a say in how the college can help students not feel as wiped out. He has heard other alumni and students speak about the amount of work that they are given at the end of the semester, "I feel that professors could not backload the end of semesters with projects so that there is no project and final exam cramming at the end of the year," said Genz.  
Brandon Adams, a second alumni of the college, also had his share of tiredness, stress, and frustration during his college days, "I felt terrible. Overwhelmed and overworked because the work catches up to you every class. Writing multiple papers, and final exams are an issue but that's more of a personal issue," said Adams.  Adams has his own thoughts on how they feel Ocean County College could help its students at the end of the semester, "The more classes that implement things, it's up to the student to do it at their own pace. I feel that students could have piece by piece project deadlines, on a college level it's tough," said Adams. At the time of this interview, Adams was tired from trying to keep up with all his schoolwork. 
A mother of a former college student, who wishes to remain anonymous, also had a say in what colleges should do to help its students, "I think there's an emphasis on kids being self-sufficient, they don't understand the consistency of a schedule, they need limitations on class time. If a class runs until ten p.m., they should not be permitted to book a class at eight the following morning."  
 Ocean County College is doing its best to help its students not feel stressed at the end of the semester. Students can seek help if they are feeling overwhelmed anywhere at the college. There are multiple sources they can use. Hopefully there will be a change made to stop finding students feeling run down by the end of the semester.