Holocaust Days of Remembrance at OCC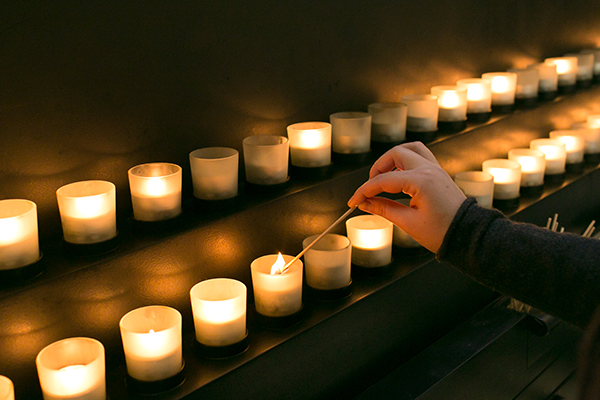 The Center for Holocaust, Genocide, and Human Rights Education at Ocean County College will sponsor a week of special events from April 17 to April 20 in observance of Yom HaShoah and the Holocaust Days of Remembrance. All events will be held in the Technology Building (#25) Lecture Hall on the Ocean County College main campus in Toms River, New Jersey.
April 17
Not Like Sheep to Slaughter: Jewish Resistance During the Holocaust (Dr. Ali Botein-Furrevig)
9:30-10:45 a.m. and 5:00-6:15 p.m.
Despite starvation, dehumanization and the "Final Solution," many Jews in the ghettos and camps throughout Europe participated in resistance efforts, be it spiritual and cultural, armed fighting, rescue activities, producing false documents, or joining Partisan groups engaged in guerilla warfare and sabotage against the Germans.
April 18
I Was a Hidden Child: The Maud Dahme Story
9:30-10:45 a.m.
Our guest speaker is New Jersey resident Maud Peper Dahme. As a 6-year-old child living in the Netherlands, she and her 4-year-old sister were hidden from the Nazis. Ms. Dahme will discuss her experiences as well as her book and film, "The Hidden Child." Prayer service to follow.
Their Fate Shall Be Our Fate: The Righteous Among Nations (Dr. Justin Pfeifer)
11:00-12:15 p.m.
Whether smuggling and hiding Jews, providing false documents, taking in Jewish children, there were non-Jews from all denominations and walks of life who stand in stark contrast to the indifference that prevailed at the time and who risked their lives to save Jews.
April 19
And Our Deeds Shall Live Forever: Uprisings in Ghettos and Camps (Dr. Ali Botein-Furrevig)
11 a.m.-12:15 p.m.
Forcibly evacuated from their homes all across Europe to isolated crowded ghettos and eventually to extermination camps, Jews maintained their religious and cultural practices, educated their children, smuggled in food and weapons, participated in uprisings, and maintained and hid documentary records of the atrocities they endured.
Creativity as Witness and Resistance: Art and Poetry by the Children at Terezin Camp (Dr. Ali Botein-Furrevig)
2:00-3:15 p.m.
Theresienstadt, or Terezin, established as a ghetto and transit camp in 1941, was built by the Nazis as a "model" Jewish settlement camp for propaganda purposes. Despite congestion, hunger, and forced labor, educational and cultural activities abounded. This presentation will discuss the art and poetry by the children interned there.
April 20
Forests of Valor: Jewish Partisan Fighters (Dr. Ali Botein-Furrevig)
9:00-10:15 a.m.
20,000-30,000 young underground freedom fighters who escaped the ghettos and work camps fled to the hidden forests of Poland, Lithuania, and Belarus. They blew up thousands of Nazi supply trains, destroyed power plants and other military and strategic targets, and carried out complicated smuggling and rescue mission.
Sisters in Resistance: Women Partisans During the Holocaust (Dr. Ali Botein-Furrevig)
12:00-1:15 p.m.
Although often known for their support roles in Partisan groups –performing camp duties and providing medical care—young women also fought alongside men. Others braved danger and death as couriers; sometimes disguised as non-Jews, they transported documents, papers, money, and ultimately ammunition and weapons across borders and into ghettos. This lecture will highlight some of those courageous women.
All events are free and open to the public. For more information, contact Dr. Ali Botein-Furrevig, director of the Center for Holocaust, Genocide and Human Rights Education at Ocean County College, at 732-255-0400 ext. 2368 or [email protected].