Trace the History of Women's Fashions at Ocean County Library Jackson Branch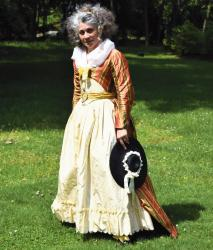 During America's first full century, was women's attire for style, function, or both? Find out why, and how, they created and wore their finery and everyday wear during "The History of Women's Clothing: 1780 to early 1900s" at the Ocean County Library Jackson Branch, 2:30 PM Saturday, March 25.
Seamstress and spinner Pati Githens, former Education Director of the Monmouth County Historical Association, will conduct the tour of fashion past. Members of the MCHA sewing group will be adorned in handmade reproductions of women's garb as it was worn more than a century ago.
Attendees will discover the ways clothes were assembled and sewn, the evolution of women's pockets, facts and myths about corsets, and the effect of technological advances on fashions.
Please register at www.theoceancountylibrary.org/events to attend this free program, sponsored by the Friends of the Jackson Library. For more information, visit the Jackson Branch, 2 Jackson Drive, or call (732) 928-4400.