Top 5 Golden Age Christmas Movies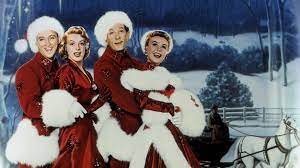 Nothing's better than watching a Christmas movie to get into the holiday spirit.
Since the holidays are just around the corner, here are 5 great Christmas films from the
Golden Age of Hollywood.
5. "The Apartment" (1960)
Jack Lemmon plays C.C. Baxter, a young insurance worker who lends his apartment to
company bosses for their extramarital affairs in exchange for a promotion. When Baxter
develops feelings for the elevator girl Fran (played by Shirley MacLaine), he finds out
that she is romantically involved with his boss Mr. Sheldrake (played by Fred
MacMurray). Baxter must decide if he wants the girl of his dreams or his career
advancement. Billy Wilder's Academy Award winning picture is not your typical
Christmas film, it captures the hearts of many viewers during this time.
4. "The Shop Around the Corner" (1940)
Ernst Lubitsch brings a comedy of manners to Christmas. Margaret Sullivan and James
Stewart play two coworkers at a gift shop who absolutely despise each other. It turns
out that they are falling in love through letters as each other's anonymous pen pals. This
is the third film out of four that starred Stewart and Sullivan. The two produce great
charm and on-screen chemistry. Lubitsch makes the film seem as if it was directed by
Frank Capra or George Cuckor because the leading characters are supported by a
strong supporting cast. The film is wholesome, witty, and warm, with a great ensemble.
3. "Miracle on 34th Street" (1947)
In this film, Doris Walker (portrayed by Maureen O'Hara) hires an old man by the name
of Kris Kringle (portrayed by Edmund Gwenn) to play Santa Claus at Macy's. As Kris
becomes a sensation at Macy's, his sanity is questioned by the company's psychologist.
Edmund Gwenn's performance as Kris Kringle captured the hearts of many as he
portrayed him with such passion and enthusiasm. Gwenn's performance earned him a
well deserved Academy Award. The film also features other great supporting acts from
John Payne and an 8-year-old Natalie Wood.
2. "White Christmas" (1954)
Nothing's better than watching Bing Crosby and Danny Kaye tap dance with Rosemary
Clooney and Vera-Ellen. Bing Crosby and Danny Kaye play a successful
song-and-dance act who become romantically involved with a sister act (played by
Rosemary Clooney and Vera-Ellen). The group travels to Vermont to help their old
general's business by putting on a Christmas show. The film features music from Irving
Berlin, choreography from Robert Alton, and direction from Michael Curtiz. Some
featured songs include "The Best Things Happen When You're Dancing," "Sisters,"
"Snow" and more.
1. "It's A Wonderful Life" (1946)
It's hard to believe that the film that everyone watches on December 24th was one of
the biggest box office failures of 1946. James Stewart plays George Bailey, a man who
wants to end his life because he saw himself as a failure. George is met by a guardian
angel named Clarence (played by Henry Travers) who shows him what life would have
been if he had not been born. Frank Capra brings a great lineup of actors from Donna
Reed as Mary Bailey, Lionel Barrymore as Mr. Potter, Ward Bond as Burt the cop, and
many more. Capra's classic never fails to touch the hearts of audiences.