Top 10 Hitchcock Films
Alfred Hitchcock is considered by many directors and critics as one of the greatest
filmmakers of all time.
Although Halloween is over, it's still a great time to celebrate the great master of
suspense by examine his Top 10 films:
10. "Spellbound" (1945)
In this film, Ingrid Bergman is Dr. Constance Peterson, a rather uptight and
sophisticated psychoanalyst who falls in love with the institution's new chief of staff Dr.
Anthony Edawrds played by Gregory Peck. Everything is not what it seems as the new
doctor is an imposter who suffers from amnesia and fears he may have killed the real
Anthony Edwards. The film features a dream sequence created by Salvator Dali, superb
chemistry form Peck and Bergman, and an Academy Award winning score from Miklos
Rozsa.
9. "The Man Who Knew Too Much" (1956)
This film stars James Stewart and Doris Day as Ben and Josephine McKenna, a happily
married couple who are vacationing in Morocco with their young son. Their lives turn
upside down when their son is kidnapped by assassins who plan on killing the prime
minister of Great Britain. This film is a remake of Hitchcock's early film from the 1930s of
the same name. The film won an Academy award for "Que Sera, Sera (Whatever Will
Be, Will Be)" as best original song.
8. "Rebecca" (1940)
Joan Fontaine plays an unnamed young woman who marries Maxim DeWinter, a rich
widow. As the couple moves into their large and mysterious mansion, The new Mrs.
DeWinter is tormented by the spirit of the first Mrs. DeWinter and the old housekeeper
Ms. Danvers played by Judith Anderson. This is the only film directed by Hitchcock to
win the Academy Award for best picture. The film also won in the cinematography
category and had nine other nominations.
7. "The Wrong Man" (1956)
This is the only Hitchcock film based on an unfortunate real event. Henry Fonda plays
Manny Balestrero, a musician who is accused of holding up and robbing an insurance
company. Manny's situation causes stress on his wife (Vera Miles) and family. Hitchcock
used expressionist inspired cinematography and on location sets to give this story
authenticity.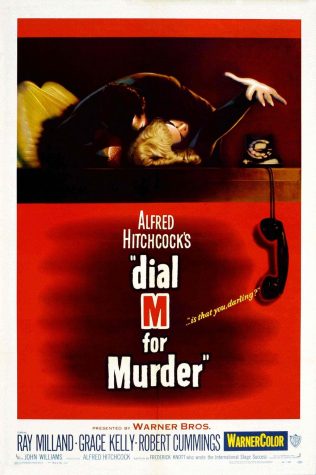 6. "Dial 'M' for Murder" (1954)
Hitchcock brings Frederick Knott's Broadway play to the silver screen. Ray Milland plays
Tony Wendice, a tennis player who threatens to blackmail an old college friend to
murder his wife Margot (Grace Kelly). As the plan backfires, Tony then frames Margot
for first-degree murder. This is just one of three films that Grace Kelly did with
Hitchcock. The others being "Rear Window" and "To Catch a Thief."
5. "Rope" (1948)
In this film, two friends (Farley Granger and John Dall) perform a "thrill kill" on a
classmate and hide him in their apartment. The friends grow arrogant as they invite the
victim's friends and family over to show off "the perfect murder." Although, one guest
(James Stewart) grows skeptical over their actions. This film was adapted from the 1929
play of the same name by Patrick Hamilton. The story itself was inspired by the popular
Leapold and Loeb case. This film was Hitchcock's first film in technicolor and was shot
in less than ten takes. This film would be the first of four films that Hitchcock
collaborated with James Stewart.
4. "North by Northwest" (1959)
Cary Grant plays Roger Thornhill, an innocent man who is accused of being a
government spy, travels across the country to hide himself from a mysterious
organization. The film offers great supporting performances from Eva Marie Saint and
James Mason. The film also features the iconic plane chase scene and the thrilling
Mount Rushmore scene. "North by Northwest" is considered as one of the greatest films
of all time and one of the most fun films to watch.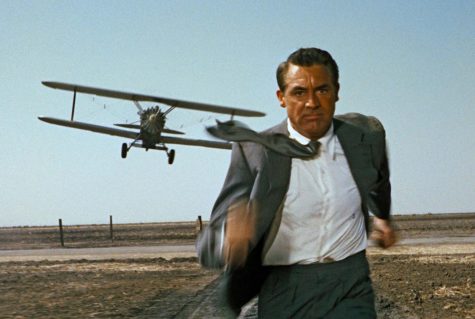 3. "Rear Window" (1954)
Hitchcock teams up with James Stewart and Grace Kelly in a thrilling experience by just
looking out of a window. L.B. Jeffries (James Stewart) is convinced that his neighbor
(Raymond Burr) murdered his wife. Like "Rope" and "Dial 'M' for Murder," the film only
has one setting. Although the film has a confined setting, Hitchcock manages to fill up
the story with suspense and shock. This shows how Hitchcock can fill the smallest
places with great tension.
2. "Psycho" (1960)
The film that shocked audiences around the world. Janet Leigh stars as Marion Crane,
a woman who steals $40,000 dollars from her client and runs off. She meets Norman
Bates (Anthony Perkins), a motel owner who is controlled by his mother. Before Marion
makes her next stop, she is mysteriously murdered by mother dearest. The film features
expressionist cinematography and a chilling score from Bernard Hermann. Vera Miles,
John Gavin, and Martin Balsam give off great supporting roles to the story. "Psycho" is
considered by many to be one of the most influential films of all time.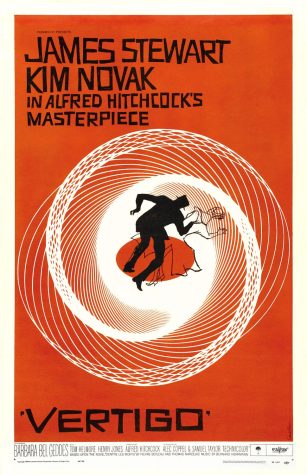 1. "Vertigo" (1958)
James Stewart plays retired detective Scottie Ferguson, who is hired by an old friend
(Tom Helmore) to follow his wife Madeleine (Kim Novak). Scottie becomes obsessed
and falls in love with Madeleine until she jumps off the roof of an old Spanish mission.
Believe it or not, what is considered Hitchcock's masterpiece was one of his biggest box
office flops. It was not until the 1980s when audiences discovered the effort Hitchcock
put into the film. The film features James Stewart breaking the typecast of his evermany
image to an obsessive and dark character, Saul Bass' dream sequence, and Bernard
Hermann's score. In 2012, "Vertigo" replaced "Citizen Kane" greatest film of all time by
"Sight and Sound.