New York Jets Quarterback Ticket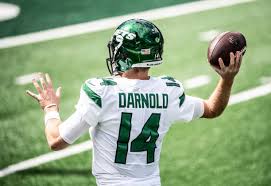 With NFL Free agency kicking off this week, the New York Jets will be in a position to solve a lot of questions that need answers.
In the meantime, one answer that has not been given is at the Quarterback position. The best thing for the Jets this offseason is they have options. Something that doesn't come around often for the Jets at QB. This may be the most important decision the Jets have made in a while.
With a new head coach in Robert Saleh and a general manager hungry to build a great team in Joe Douglas, the Jets seem to finally have the structure in place to have success, but that has yet to be seen.
So, what are the Jets options at QB? Luckily for them, I see three options the Jets can make at QB for the 2021 season.
Keep Sam Darnold
The Jets could very well keep and retain Sam Darnold. Their Quarterback for the past 3 years and the former 3rd overall pick in 2018 from USC, the Jets current QB has not shown a ton of promise in that time. Many Jets fans and the media throw a lot of the blame for poor weapons, a lack of protection, and bad coaching as this would be Darnold's 3rd head coach in 4 years. Darnold would be heading into his 4th season in the league, but is it time for the Jets to move on and start fresh?
With Darnold on the end of his 4 yr/31 million dollar deal, the Jets could move on and opt to trade him, but that has yet to be seen. 
 Darnold's Stats for the past 3 seasons: A 59.8 completion percentage, 8,097 passing yards, 45TDs, 39INTs, and a QB rating of 78.6.
Draft A Young QB
With the Draft fast approaching the Jets could trade Darnold and go ahead to drafting a young QB. With the No.2 overall pick in the draft, the Jets practically run the table on any selection they want. Two options I could see the Jets attacking are BYU's Zach Wilson and Ohio State's Justin Fields. Both are promising talents with tremendous arm strengths and can be a dual-threat at QB with both Fields and Wilson rushing for more than 15 rushing TDs each. More has been seen of Fields in terms of tape and consistency, while Wilson had a tremendous season this past year and flew to the top of NFL scout's draft boards. The Jets would be able to start fresh and give themselves time to build a team with a young QB and a cheap contract. This would ultimately buy Saleh and Douglas time to build a championship team. If the Jets kept Darnold and he didn't pan out or he had a good season the Jets would be stuck in either shelling out a ton of money or be in the same situation they were this past season. With so much talent at the quarterback position in the draft this year, the Jets will be exploring their options. 
Considering Fields played 4 fewer games than Wilson last season, here are their stats at their best
Fields: 67.2 Comp, 3,273 yds, 41TDs, 3INTs (2019)
Wilson: 73.5 comp, 3,692yds, 33TDs, 3INTs (2020)
Watson Miracle
How often does a situation like this come around? Where a franchise QB at 25 years old wants to leave his team and be traded to a new one. Well, that's the case with Texans Quarterback Deshaun Watson. Speculation has been rumored around the league that the Jets could be one of the teams interested in trading for Watson. Trading for him won't be easy, the price is high for a player like him, luckily for the Jets they have the ammo to do it, but at what cost? A possible trade scenario could be that the Jets give up their No.2 and 23 picks this year and possibly another 1st round next year. That still might not be enough, and if that's the case the Jets may have to walk away if they have to give up key players like Left Tackle Mekhi Becton or Defensive Tackle Quinnen Williams. If the Jets could find a way to land Watson, it could save the franchise.
Since 2017
Watson Stats: 67.8 comp, 14,539 yds, 104 TDs, 36 INTs, 104.5 QBR