OC Library – Online Graphic Novel Book Club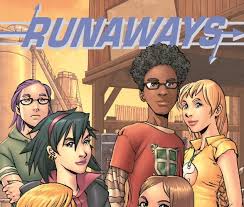 TOMS RIVER – Dazzling illustrations and gripping, relatable story lines give graphic novels their popularity. The Ocean County Library and hoopla® give teens and adults a new way to enjoy new and landmark graphic novels together, instantly and digitally.
The first-ever hoopla® Graphic Novel Book Club features "Runaways, Vol. 1: Pride and Joy," by Brian K. Vaughan, with illustrations by Adrian Alphona, as its initial Spotlight Selection.
The intriguing, fast-paced series focuses on six friends who, discovering that they've been raised by super-villains, team up to overcome the evil they were expected to assume. It highlights themes such as truthfulness, secrets, and good versus evil.
Graphic Novel Book Club participants also will find information and links for related, recommended reading material.
For additional details, see the feature posts on the Ocean County Library's Facebook and Instagram pages, or visit  http://theclub.hoopladigital.com/graphicnovel. To see the full scope of ebooks, digital audiobooks, emagazines, and streamed music and videos, visit www.theoceancountylibrary.org.