Songwriter Mandy Harvey at Grunin Center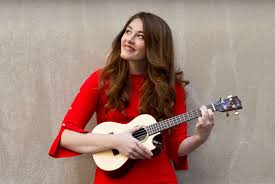 Mandy Harvey's message is universal: hope, dream, believe, no matter what. Harvey, a deaf American singer-songwriter, inspirational speaker, and author, will visit the Jay and Linda Grunin Center for the Arts at 8 p.m. on Friday, Feb. 21. 
The Grunin Center is located on the OCC Main Campus, College Drive, Toms River, NJ.
At age 18, while at Colorado State University, Harvey lost her residual hearing due to a connective tissue disorder. She had been majoring in vocal music education, but left the program following her hearing loss. Harvey pursued several career options, including education, but returned to music. She quickly became a regular performer at Jay's Bistro in Fort Collins, and was soon holding concerts at Dazzle Jazz Lounge in Denver, one of the top 100 jazz venues in the world.
 In 2017, Harvey reached the finals of the television show America's Got Talent, and was judge Simon Cowell's "Golden Buzzer Winner." In addition, Burt's Bees signed her up for their "Remarkable Women" campaign, and she was profiled by NBC Nightly News, all while beginning to perform at prestigious clubs, on concert stages, and at festivals.
Harvey recently released her first book, "Sensing the Rhythm: Finding My Voice in a World Without Sound," published by Howard Books/Simon & Schuster. And, as an ambassador for No Barriers USA, she travels the country to heighten awareness and challenge stereotypes.
Tickets, $25 – $35, can be purchased online at grunincenter.org; by phone at 732-255-0500; or in person at the Grunin Center Box Office, Monday to Friday, 10 a.m.
to 5 p.m.