Running Back Finalists Announced for All-Time Team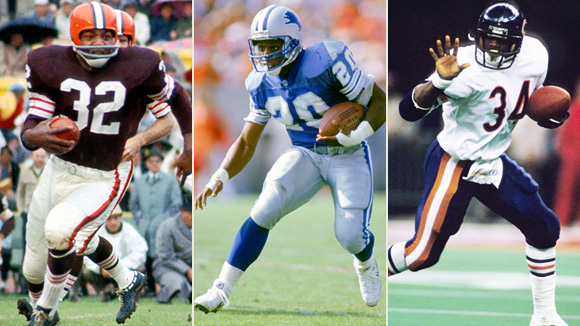 The National Football League has revealed 24 finalists for their upcoming NFL All-Time Team.
Running backs of football's past and present will be competing for 12 available spots that will be allocated to the 12 most highly-regarded rushers  in NFL history. The All-Time Team is set to include the 100 players and 10 coaches that were selected by a panel of 26 voters elected by an organizing committee to rank among the best at their sport.
Out of the 24 nominees announced, the only active running back that appears among the candidates is 2007 first-round pick Adrian Peterson. Peterson pairs with former Charger and Jet LaDanian Tomlinson as the only two rushers to have played in the past decade. Other recognizable names on this list include Chicago Bears' legend Walter Payton, all-time rushing leader Emmitt Smith and former Buffalo Bills' running back O.J. Simpson.
The running backs will be the first position to be announced for the latest version of the NFL All-Time Team. The team will be announced throughout six weekly installments on NFL Network every Friday starting November 22. The last position group is set to be announced on December 27.
About the Writer
Matt Quiros,
Born and raised in Brick Township, New Jersey, I developed my interest in writing through using it as a platform to share my opinions related to professional...