Film Screening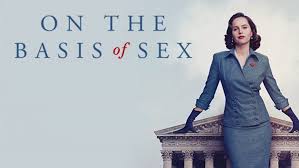 Ocean County College's School of Business and Social Sciences, the Ocean County College Library, and SLAP (Students Learning About Politics) will present a screening of the film "On the Basis of Sex" to celebrate Constitution Day 2019.
The event is free and open to the public.
"On the Basis of Sex" highlights the true story of Ruth Bader Ginsburg, including her struggles for equal rights, and the early cases of a historic career that led to her confirmation as a U.S. Supreme Court Associate Justice.
The film stars Felicity Jones as Ginsburg, and also features Armie Hammer, Justin Theroux, Sam Waterston, and Kathy Bates.
Screenings will take place on Tuesday, September 17, at both 9:30 a.m. and 2 p.m. in the Tech Lecture Hall (Bldg. 25) on OCC's main campus in Toms River.
For more information, contact Jason J. Ghibesi, Political Science/History Lecturer, at [email protected], or 732-255-0400, ext. 2220.