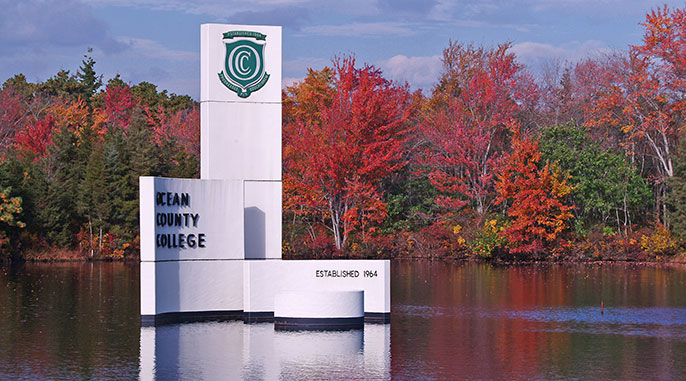 Kimberle Samarelli never planned on becoming a college professor while growing up. She has now taught at Ocean County College for 13 years, is a former business owner, and holds the highest position in the New Jersey Amusement Association.
"If I can change one student's life in a positive way, then I've done my job at OCC," Samarelli said. This is her motto that she tells her classes in the beginning of each semester. She teaches to make an impact, not to make money.
Growing up in Seaside Heights, Samarelli earned her MBA from Georgian Court University. She says her goal earlier in life was to become a school superintendent which is what led her to become a professor, something that she has grown to love. Currently, she is a full adjunct professor at OCC and the president of the adjunct union.
"I feel like she makes it easier to understand the class by taking real-life examples instead of just teaching from the book," OCC student Heather Lenovich said. "I think she has a lot of experience in the subject and really knows what she is talking about and gets her lesson across very well."
"She infuses real life experience that is current with teaching the material," OCC student Jayme Luzzi said. "Professor Samarelli lives what she teaches each day and she does it with class, style and breadth of experience that most people will never know because they haven't led the life she has."
Samarelli goes above and beyond the average textbook curriculum in her classes. She brings in real-world knowledge and experience, allowing her students to get an in-depth view of their future career fields.
Inside of the classroom, Samarelli acts as a role model for her students. She preaches a "Work harder, not smarter" attitude that her students can base their lives around. Even in times of disappointment, Samarelli exhibits forgiveness and patience. Her students find her to be completely transparent both inside and outside of the classroom, something that allows her to truly connect with her classes.
"When I was growing up, Wonder Woman was my favorite superhero. Now it is Kim Samarelli," Luzzi said. She believes that Samarelli's biggest asset is not her intelligence, but rather her heart. Luzzi looks up to Samarelli as someone who she can identify with, both morally and ethically.
A large part of Samarelli's strengths as a professor stem from her endeavors in the business world. As the fourth generation in her family to be involved in the amusement business, Samarelli has worked her way up to the role as the executive director of the New Jersey Amusement Association, something that she credits her MBA for allowing her to do. In this position, Samarelli is also a member on the Scholarship Committee, Trade Show Committee, and Food Service Committee.
Despite this being the highest position in the association, Samarelli has made it clear that she will never turn down future opportunities to further her career. To this day, Samarelli says that she never knows what she wants to be when she grows up.
In addition to her role in the New Jersey Amusement Association, Samarelli owned and ran a small candy and ice cream shop in Lavallette. It was there that she gained her expertise in the everyday operations of a successful business. Her responsibilities included maintaining accounting records and developing a company website.
"She always has a lot on her plate but carries herself with grace," Dominique Resto said. Resto, who is Samarelli's extern at OCC, believes that Samarelli is a very straightforward business woman who makes sure that business is handled the right way. She has the ability to fully invest herself into any task. She carries herself in a professional manner and maintains a positive voice that garners respect from her peers.
Samarelli believes that all of her students have the ability to be successful in the business world. She gives the advice to follow your passions, think outside the box, believe in yourself, look for constructive criticism, and to be open minded. Throughout her career as a professor, Samarelli has made a conscious effort to use communication and positive feedback to encourage her students to reach their goals.