Lucia Jackson: "Jazz on a Sunday Afternoon"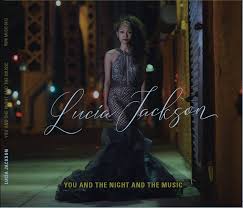 Alvin Ailey School of Dance graduate Lucia Jackson has created her own hybrid of modern dance and jazz vocalizing, melding the forward-looking motion of modern dance with the proud traditions and endless possibilities of jazz singing into a unique art form — one that's exciting and unquestionably transcendent. Jackson is currently performing music from her debut album, "You And The Night And The Music," and will take the stage at the Jay and Linda Grunin Center for the Arts at 3 p.m. on Sunday, March 22, as part of the "Jazz on a Sunday Afternoon" series.
On the new album, released September 2018 with the help of a devoted fan base via an Indiegogo campaign, Jackson is backed by a band that features her father, world-renowned jazz guitarist Ron Jackson; pianist Yago Vazquez; bassist Matt Clohesy; and drummer Corey Rawls. Guest artists on the album include Daniel Garcia on flamenco guitar, Frederika Krier on violin, Javier Sanchez on bandoneon, Samuel Torres on congas/percussion, and Yaacov Mayman on tenor saxophone.
"You And The Night And The Music" mixes tunes from the Great American Songbook, including Cole Porter's "Just One of Those Things" and Duke Ellington's "Sophisticated Lady." The album also features new tunes such as "Issues" from Julia Michaels, and even dips into rock royalty like her distinctive take on the Beatles classic, "And I Love Him." The album includes an original composition, "Feel the Love" and her special arrangement of the Frank Sinatra co-written classic, "I'm a Fool to Want You."
Jackson, now based in New York City, grew up in Spain and draws upon these musical roots by incorporating flamenco and tango into her distinctive take on the jazz idiom. Her shows combine highly detailed and emotive jazz vocals with inventive solos from the world of modern dance.
Tickets for adults cost $24, seniors $20 (Jazz Club subscription eligible) and can be purchased online at grunincenter.org; by phone at 732-255-0500; or in person at the Grunin Center Box Office, Monday to Friday, 10 a.m. to 5 p.m. 
The Grunin Center is located on the OCC Main Campus, College Drive, Toms River, NJ.