Katie Sowers: First Woman to Coach in Super Bowl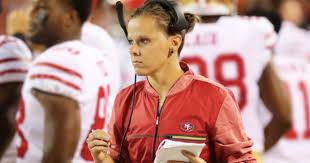 As Super Bowl LIV fades, Katie Sowers, the Offensive Assistant Coach for the San Francisco 49ers, continues to create immense conversation as the first woman to coach in the big game.
Microsoft premiered its 2020 Super Bowl commercial, "Be The One" on Jan. 28, showcasing Sowers and her thoughts on women in the NFL.  She shares how she grew up an avid football fan, writing journals about the game, playing the game, and seeing her dad coach, but struggled to see opportunities for herself.  Sowers, and many aspiring coaches like her, had never before seen a female football coach.
Despite her break in the media as the first woman coach in the Super Bowl, Sowers shares in the Microsoft commercial, what her true goal is.
"I'm not trying to be the best female coach," Sowers said.  "I'm trying to be the best coach."
NBC Sports talked with Sowers back in 2018 about her role as a female assistant coach.
"Me being a woman, I don't think really makes that big of a difference because not all male coaches are the same, not all female coaches are going to be the same," Sowers said.  "I'm going to bring my personality no matter what."
She continues, saying she wants to ensure she is not the last woman to hold this title, and chances are she won't be.  Women have been breaking barriers in football over the years.  Jen Welter holds the title of the first female coach in the NFL after being hired by the Arizona Cardinals in 2015 as an assistant coaching intern.  Just as recent as the end of last season, the Tampa Bay Buccaneers hired two female full-time assistant coaches, Maral Javadifar and Lori Locust.
Sowers also made headlines in 2018 after coming out to the media as LGBT, and therefore, becoming the first openly gay coach in the NFL.
"I didn't see it as even a story," Sowers said.  Though, since her coming out she believes it has helped create a more inclusive community and improves the way people interact with each other.
Sowers kick-started her career as a player in the Women's Football Alliance for eight years.  She soon began working as an athletic director for the city of Kansas City for a total of six years.  Then came the opportunity to enter the NFL with the Atlanta Falcons as a scouting intern, while also working alongside football coach, Raheem Morris.  In June 2017, she started working with the 49ers through the Bill Walsh Minority Fellowship and became a seasonal offensive assistant before earning the full title she has today.  Sowers is currently in her second season as the 49ers offensive assistant coach.