High Expectations for the Ocean County College Tennis Team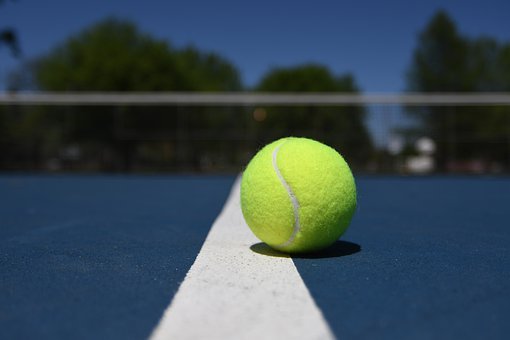 The Ocean County College tennis team looks to repeat themselves this season with a new coach and new high level players.
After having a great season last year, the Ocean County College tennis team is hoping to continue the momentum with some new faces this year. Everyone seems to have high hopes coming into this tennis season, especially the new coach, Dallas Medeiros, who helped out in many ways with last year's successful team as an assistant. "With more additions of experienced players, I think our team has the potential to go even further than we did last year," Medeiros said. "I feel excited to get moving as a group in the preseason, working hard on fitness and performance that can be taken to the courts for our first match and beyond."
If the tennis team ends up as one of the top two teams in the conference, they will qualify for the national tournament. The national tournament is played at the end of the season and is held in the state of Georgia. According to Medeiros, this is one of the biggest goals the tennis team is looking to achieve, and one that was achieved just last year. He has full confidence they can do it with the players coming out for the team this year.
The coach isn't the only one with high expectations going into the season though. Freshman Bret Guempel is among the pool of new players looking to make an impact. "I don't know how the team was last year, but I know some of the teammates that I will be playing with, so I feel that we will be pretty good," Guempel said when asked how he thought the team would be this season. Guempel is a 19 year old who played tennis for four years at Saint John Vianney High School. Guempel played mainly first singles in high school. "While I do feel confident about my playing ability, I believe that I'll be challenged on a new level, so I am nervous as well," Guempel said.
A big factor that will really change the team this season is the addition of Dallas Medeiros. Medeiros is a good player himself and hopes to bring his experience to help the team as best he can. He is currently a coach at the Toms River Country Club as well which has allowed him to already form bonds with some of the players that will be trying out for the team. Guempel himself is a player who continues to play on the offseason and trains as much as possible.
Both Guempel and Medeiros think the team will be successful this season. "As long as the team puts in their all, I don't think we will have any problem making it to nationals" Medeiros said.
With the majority of the team returning from last year, the team's thought process seems to be that they will build upon what they already have. No one seems more excited for this coming season than the coach however. With high expectations, Medeiros is planning to have a good first year as coach of the Ocean County College tennis team.
"While I am very excited to start this tennis season with the team we have, I would always love to get even more people to come out for the team, it can never hurt," Medeiros said. "I know a lot of new people who are interested and that really gets me amped up for what's to come."
If you wish to contact the tennis coach, his number is (848) 333-5186.