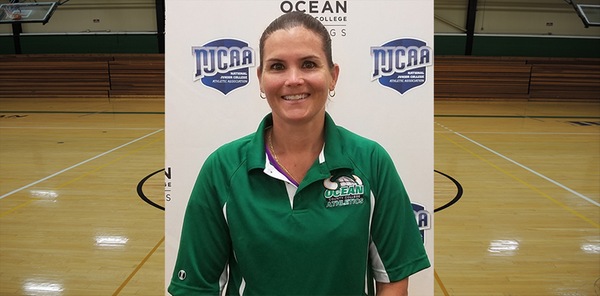 The Ocean County College Athletic Department has hired Kirsten Sciallo in the position of Head Coach for the Vikings' Women's Basketball team.
A highly-decorated, three-sport (basketball, soccer, field hockey) varsity student-athlete at Southern Regional High School, Kirsten is currently an adjunct professor at Ocean County College and will begin her 14th year (and 21st in the profession) in Fall of 2019 as a special education teacher at Manchester Township High School. With a combined 3 wins over the last two seasons, Sciallo takes the wheel of a team in need of the fresh start that she will surely bring to the program.
"As a graduate of Southern Regional, my basketball coach, the late Kathy Snyder, used to take our team to Ocean County College to scrimmage the team. I remember how much I looked up to the OCC athletes," remembered Sciallo. "I am very honored to be given the opportunity to affect positive change in the lives of the student-athletes at Ocean County College. Prior to having this opportunity, I have had the chance to take some classes at Ocean County College. As a student here I honestly was so impressed by the faculty and the campus that I became an adjunct professor of Social Sciences at OCC in 2005. I am now going into my 21st year as a special education teacher.
"Throughout my years I have coached a diverse population, from elementary level to high school. I have also coached and/or volunteered my time in various sports, including basketball, field hockey, and soccer within the school and community settings from Ocean to Union County. To me, athletics and academics have always gone hand in hand. Success comes by holding yourself to a certain level of excellence. Being supported by amazing coaches, family, and teachers can motivate an individual to become more than they thought they could ever become."
OCC Women's Basketball begin their 2019-20 season on the road on November 16th, in a 12pm conference matchup versus the Skylanders of Sussex County Community College.